Six workers killed, 17 injured in boiler blast at NLC Thermal plant in Neyveli
[caption id="" align="alignnone" width="700"]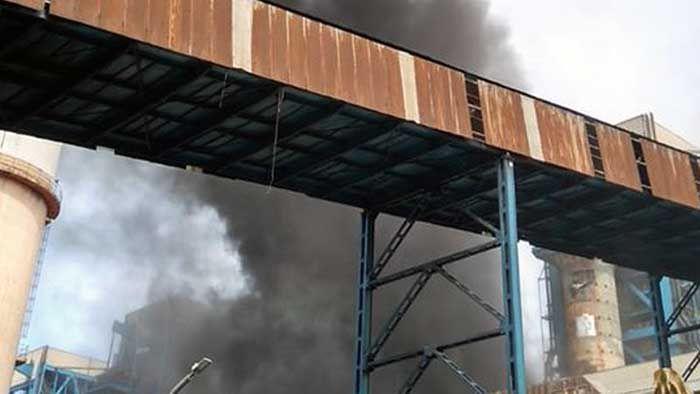 Photo- via twitter[/caption]
Six factory workers were killed and 17 others were injured as a boiler exploded at Unit V at the Thermal Power Station-II in NLC India Ltd. Neyveli , TamilNadu on Wednesday.
As per reports, the thermal power plant was under shutdown and maintainance activities were being carried out. Fire erupted out in the boiler area followed by an explosion, NLC India said. The blast is said to have occurred at around 10 am and pictures and videos from the site show thick black smoke evaporating from the site.
All the 17 people injured were taken to NLCIL Hospital, from where 16 of them were sent to Apollo Hospital in Chennai for higher speciality treatment.
"Boilers need to be handled with high amount of care and caution, the two recent blasts in quick succession indicate poor maintainable. This shows that the managment is not focussed on the safe operation of the plant. As a highly profitable company, NLC can surely afford better maintainable. Such a major explosion does not happen all by itself, as minor problems would have manifested itself earlier and questions must be raised about the regular safety audit and inspection" , said Nityanand Jayaraman of the Chennai Solidarity group.
An enquiry headed by PK Mohapatra, retired director (technical wing) , NTPC (National Thermal Power Corporation) has been ordered to look into the matter to and find a cause of the accident. An internal inquiry committee with senior executives headed by Director (Power) of NLCIL is also investigating the matter.
While the cause of the blasts is yet to be discovered, Tamil Nadu Chief Minister, Edappadi K. Palaniswami announced a solarium of Rs. 3,00,000 to the family of the deceased and expressed his condolences to the family. He also announced Rs.1 Lakh for those who got severely injured and 50,000 for those who suffered minor injuries.