PM garib kalyan ann yojna extended till November, 80 crore people will get food grains
[caption id="" align="alignnone" width="360"]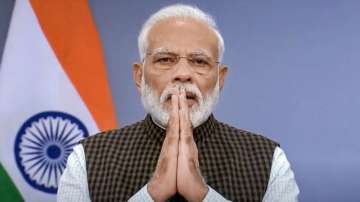 Narendra Modi (file photo)[/caption]
On Tuesday, Prime Minister Narendra Modi has announced to extend the PM Garib Kalyan Anna Yojana till November. 80 crore people will get 5 kg of wheat or rice free of cost under this scheme. The government will give them five kg of wheat or rice by November and one kg of gram(grain) by November.
Addressing the country, the Prime Minister announced to extend the scheme till Diwali. The Prime Minister said that farmers have filled the granary of the country, we will fulfill the resolve of self-sufficient India. The PM said that now a ration-card is being arranged for the whole of India. That is, one nation - one ration card. The biggest benefit of this will be to those poor colleagues who leave their village and go elsewhere for employment or other needs.
The Prime Minister said that if the government is able to provide free food grains to the poor and needy today, the credit goes mainly to two sections. First - the hardworking farmers of our country, our food providers. Second- the honest taxpayer of our country.
The Prime Minister said that under the Pradhan Mantri Garib Kalyan Yojana, a package of Rs 1.25 lakh crore was given to the poor. In the last 3 months, Rs. 31 thousand crores were deposited directly into Jan Dhan accounts of 20 crore poor families. 18 thousand crores have been deposited in the bank accounts of more than 9 crores farmers.
We have more work during and after the rainy season, mainly in the agriculture sector. There is a slight slowness in other sectors. Gradually, festivals also start forming from July. This time of festivals also increases needs, also increases expenses.