Hindi version of 'National Test Abhyas' app by NTA released on Sunday
[caption id="" align="alignnone" width="920"]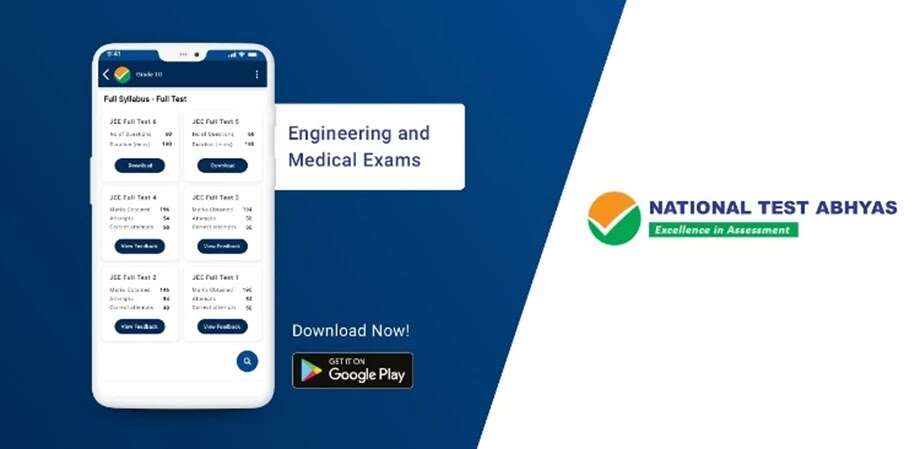 National Test Abhyas App[/caption]
Union Human Resource Development Minister Ramesh Pokhriyal Nishank released the Hindi version of the National Test Abhyas app by National Testing Agency(NTA) on Sunday.
The English version of the NTA was released just over a month ago. Through this app, students can prepare for the National Eligibility and Entrance Test (NEET) and Joint Entrance Examination (JEE) Main at home.
The app's English version has become quite popular among students. So far, about 9.56 lakh students have downloaded it and about 16.5 lakh students have given mock tests.
Releasing the Hindi version of the NTA app, Nishank said that every year a large number of students appear for JEE Main, NEET and other competitive exams, out of which a lot of students do not get any kind of help. Keeping in mind their needs, we released the English version of this app a month ago which is based on artificial intelligence (AI).
We were aware that even after this, the needs of many students will remain incomplete as not everyone should have a good knowledge of English language. Keeping in mind the needs of such students, we have also released its Hindi version.
Now more and more students will be benefited through this app. In the new version of the app, exams, instructions, examination papers, analysis etc. can be seen in both Hindi and English languages.
After downloading the app on their smart phone or tablet, the student will have to sign-up and then they can use it by choosing their preferred language. Nishank said that just as the NTA sends a paper in English language every day, similarly a new paper will be available for Hindi every day.
While giving the paper, students will have to put their smart phone on 'flight mode' and after the paper is over, they will have to come online to see its analysis. In the end, the minister congratulated all the students for the examinations.