Election for 19 seats of Rajya Sabha to be held today
[caption id="" align="alignnone" width="720"]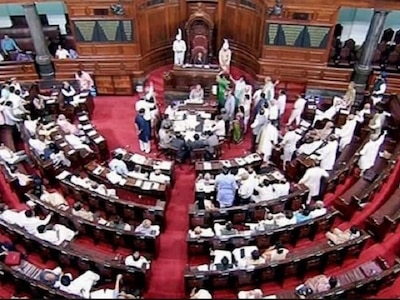 Rajya sabha (file photo)[/caption]
Elections will be held on Friday for 19 seats of Rajya Sabha from eight states of the country. There is likely to be a close contest between the BJP and the Congress in Gujarat, Madhya Pradesh and Rajasthan.
The election to 18 seats was postponed due to the Corona epidemic. Later, the Election Commission announced to hold elections for four seats from Karnataka and one seat each from Mizoram and Arunachal Pradesh.
In the 19 seats of Rajya Sabha, there will be four seats each from Andhra Pradesh and Gujarat, three each from Madhya Pradesh and Rajasthan, two from Jharkhand and one each from Manipur, Mizoram and Meghalaya.
Nine members of the ruling coalition in Manipur. BJP has nominated Lisemba Sanajaoba and Congress has fielded T. Mangi Babu.
In Karnataka, former Prime Minister HD Deve Gowda, senior Congress leader Mallikarjun Kharge, BJP candidates Inna Kadadi and Ashok Gasti have already been declared unopposed in four seats. The unopposed victory of BJP candidate Nabam Rebia from the only seat of Rajya Sabha from Arunachal Pradesh has been declared.
The Election Commission has said that counting of votes for all the 19 seats will take place in the evening of June 19. In the wake of the corona virus epidemic, the Election Commission has made appropriate arrangements for voting.
The body temperature of each voter (MLA) will be checked and social distance rules will be followed. The contest in Gujarat is likely to be interesting as no one in the ruling BJP and Congress has enough numbers in the Assembly to win their candidates because of it.
In Rajasthan, the ruling Congress and the opposition BJP have kept their respective MLAs in different hotels, accusing each other of luring the MLAs. Four members will be elected to the Rajya Sabha from Andhra Pradesh.
The ruling YSR Congress is expected to win all the four seats due to the sufficient number of seats in the state assembly. For the first time after the bifurcation of the state in 2014, elections are being held for Rajya Sabha seats here.
Elections for the 55 seats of the upper house were going to be held on March 26 but 37 candidates have already won unopposed. BJP and Congress have fielded two candidates each for three seats in Madhya Pradesh.
The BJP has nominated Jyotiraditya Scindia and Sumer Singh Solanki, while the Congress has nominated Digvijay Singh and Dalit leader Phool Singh Baraiya. JMM president Shibu Soren, Congress candidate Shehzada Anwar and BJP state president Deepak Prakash are pitted for two Rajya Sabha seats in Jharkhand.